What is JomPAY?
---
JomPAY
was launched in 2015 as a national bill payment scheme, established & operated by Payment Networks Malaysia (PayNet - Formally known as MyClear).
Developed as a national initiative involving billers, banks, Bank Negara Malaysia (BNM), PayNet and the Government to speed up e-payments and provide greater efficiency, convenience and accessibility for the public to make bill payments via Online Banking, Mobile Banking or ATMs.
JomPAY for business
---
Previously, businesses who wish to collect for their recurring bill payment are required to sign up as bill payment biller with many banks for their recurring collections. Businesses need to deal with multiple banks' reports come in multiple file format for their daily, weekly and monthly reconciliation. Cost of conducting business is vary depending on fees imposed by banks.
Now, with JomPAY, businesses just need to deal with only one bank in order to receive payment from customers from 40 banks in Malaysia and maintain only one collection account to collect / receive bill payments from customers from any banks In Malaysia. As a JomPAY merchant, businesses will be able to collect payments online / ATM efficiently with lower cost, saves time and easy reconciliation.
Benefits

---

Connect to only ONE Bank to collect payments via 42 Banks

Consolidated report covering all JomPAY payments

Immediate notification of incoming customer payments. More info

Customers can pay you through any of the 42* Banks

Online validation ensures payments are directed correctly
How JomPAY works?
---
There are 3 important fields in JomPAY - Biller Code, Reference 1 (Ref 1) and Reference 2 (Ref 2).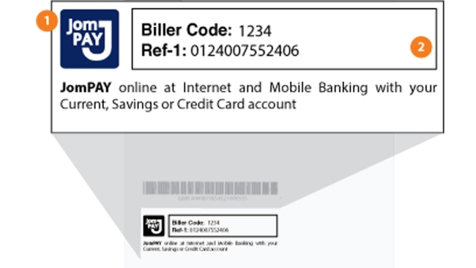 Biller Code: unique number generated randomly by PayNet to be assigned to each JomPAY merchant.
Ref 1: unique 1-20 digits alphanumeric that is used to identify an account or bill to be paid without the need of providing any personal information about customers. It could be either fix or changeable as required by a Merchant.
Ref 2: Should there is additional info, it will be filled up here. Example: Contact / Email.
Who should sign up?
---
JomPAY is suitable for Businesses or Merchants who:
1. Deals with huge voluminous & recurring of Cash & Cheque collection.
2. Receive IBG funds transfer and unable to perform reconciliation.
3. Deal with multiple banks on their bill collection.
Contact us
---
Direct Line: +603 21673278
Email:
tb-marketing@ambankgroup.com
Monday - Friday : 8:00 a.m. - 7:00 p.m.
Saturday : 8:00 a.m. - 12:00 p.m.
Closed on Sunday & Public Holidays